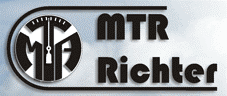 Pressure Instruments for Laboratory and Field Calibration
Established in 2000, MTR Richter stands for innovation and tradition especially in the development of highly specialized solutions for pressure measurement technology. A consistent modular design of the products enables the flexibility to adapt to customers' requirements. The basic philosophy of the MTR Richter is to buy 100% components from German manufacturer to ensure and maintain high quality standard and flexibility.
The company offers Pressure Calibration Instruments, Portable and Benchtop Pneumatic (140 bar) and hydraulic (700 bar) calibration Pumps, Pressure Controllers for Calibration of Pressure Instruments up to 3000 bar, Very High Pressure 5000 bar & 7000 bar Dead Weight Testers, Multi-input Precision Digital Pressure Indicators and Pressure Comparators up to 7000 bar, Special Pressure Connections, Customized Pressure Calibration Solutions & Calibration Software.
MTR Richter
Egerländer Str. 
48, D-63834 Sulzbach a. Main
Germany